DELIVERY & SHIPPING
SHIPPING
NADA DEBAJO will process the order once the transaction is made and confirmed. We ship from Monday to Friday, excluding holidays. All orders processed before 1PM will be shipped the same day. If placed over the weekend or holidays, it will be shipped the next business day. Once the order is placed, an email will be sent to confirm the purchase. Once the order is shipped, you will receive an email with the tracking number of the shipment. If you're having troubles with your order, please contact us at: info@nadadebajo.com or +34 606 633 928
SHIPPING COST
Shipping costs will be calculated automatically and detailed at the time of the confirming the purchase so that it is always approved by the customer before confirming the payment.
All orders have the 21% tax applied. International Shipping may be subject to duties and taxes, which are customer's responsibility. Shipping company may contact you once your items are in customs to let you know the cost.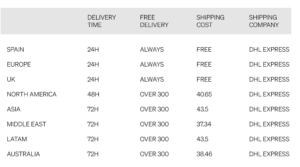 We ship worldwide, if you don't find your country in the list you can see the shipping cost directly in the checkout process.
CUSTOMS
If you have placed an order for delivery outside of the European Union, please note customs fees and import taxes are imposed once the parcel arrives in the country of destination. As your order will be held by customs, you may be asked to pay these fees and taxes. These fees must be paid by the customer in order to receive the goods.
Please note: In case you refuse to pay the import taxes and your package is returned to us, we will have to pay them and it will be deducted from your refund. If you're having troubles with your order, please contact us at: info@nadadebajo.com or +34 606 633 928